If you live in the state of California then you most likely know that Cannabis is soon to be legal for recreational use. At face value prop 64 seems like a progressive step forward for an industry that is constantly working hard to break the stigma attached to it, but once you dive in a little deeper there are a lot of unknowns surrounding the execution of this proposition. With this prop Cannabis will be heavily taxed and there will be many rules and regulations that have to be created by the state to ensure safety. It is an exciting time to be alive but as a cannabis advocate it is important to me to keep the plant sacred and protect the people who have devoted their lives to helping others by growing this amazing plant provided to us by mother earth. This is a topic for a future post but one I definitely would like to explore.
As the industry begins to evolve there are so many new cannabis based products on the market. You can find anything from soothing topicals to calm inflammation and ease pain to personal lubricants that enhance your sexual experience. I am starting to see brands integrate cannabis into products that appeal to the modern health/wellness junkie, which has allowed cannabis to be looked at in a different light. The most exciting thing I have seen so far though is cannabis in SKINCARE! There are a handful of cannabis infused skin care brands that I have been following for quite a while and as time goes on the list keeps growing. I thought I would take time today to share with you why and how Cannabis works in skincare as well as what skin issues it can help address.
First things first, we all have a network of receptors throughout our body that is called the Endocannabinoid System. This endocannabinoid system contains cannabinoid receptors that regulate things like appetite, mood, and pain. Now from what I have read and heard at panels and discussions scientists are not sure what came first, the plant or the system within us, which is quite interesting if you start to think about it. So either this magical plant evolved overtime for our health benefits or our bodies did. There is still very little research available about the benefits of the plant on our bodies due to lack of funding by the government, they have only provided funding for research on the negative effects of cannabis which will hopefully change in the future. So imagine all of the endless possibilities for medical use that this amazing plant holds within itself? We have all heard miracle stories from word of mouth or social media talking about the relief and healing that cannabis has brought to people from just one dose. I mean…we have literally just scratched the surface.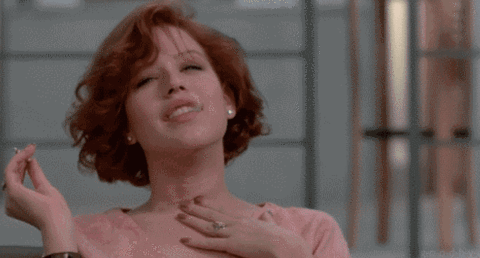 (photo via giphy.com)
Back to skincare… So the cannabis plant contains CBD and THC which are both powerful cannabinoids. CBD is non-psychoactive (won't get you high but will induce a calm, relaxed state) and THC, which gives you that "high" feeling. Both molecules are beneficial in regulating anything out of balance individually but they work phenomenally when used together. In skincare CBD will most likely be what is most used but small amounts of THC could enhance and even strengthen the benefits on the skin when applied topically via an oil, serum, or moisturizer. Cannabinoids have been shown to alleviate psoriasis, acne, excessive oil production, dermatitis, eczema, and signs of aging. Let's break it down a bit more.
Acne- Cannabinoids work as an anti inflammatory so topically applying cannabis oil to the skin will help to speed of healing and soothe acneic skin types without clogging the pores.
Excess Oil Production- Cannabinoids communicate with the sebocytes in your skin which are the cells that make up your oil glands. They literally tell your cells to stop making so much oil. This regulating effect results in more balanced clear skin. Excess oil production is also what causes acne so it's a win win here.
Psoriasis- Anti inflammatory effects of cannabinoids help to slow and heal psoriasis.
Eczema & Dermatitis- Anti inflammatory effects of cannbinoids calm itchy irritated skin and heal eczema.
Anti Aging- Cannabinoids are an extremely potent antioxidant which help extend the life of your cells by preventing free radical damage that attacks skin and kills cells. In certain cities like Los Angeles the air quality is poor so you want to make sure you are applying antioxidants daily.
Wow, isnt that amazing and crazy all at the same time! There is still loads of research to be done when it comes to understanding just how powerful this plant can be but the future looks hopeful and I can't wait to see it all unfold.
Xo,
Cori
*These opinions are mine and are 100% honest they are not to be taken as adivce nor diagnosis. I was not compensated for this review in any way. Always consult your doctor before beginning any supplement or diet. I am not a medical professional I am simply sharing my sincere thoughts and opinions.